AWARD WINNING SHINE, Y'ALL!
You're looking at the 1st Place Winner of the Moonshine Division at the Georgia Trustees Wine & Spirits Challenge! Our Mule Kickin' 140 is really THAT good. Take you a swig from the jar, or mix yourself a moonshine margarita, you can't go wrong.

HUGE shoutout to our Master Distiller, Dillard Canup, for making some of the smoothest stuff around!
Mimm's the Word: What's Happening at
Grandaddy Mimm's Distillery

Fall Drink Recipes!
Looking for some different ways to drink Grandaddy Mimm's than just on the rocks? Check out our seasonal recipes featuring some of the best shine around!
Try out the fall drink recipes and let us know what you think!
Welcome to Florida!
BIG ANNOUNCEMENT: We are excited to announce that Grandaddy Mimm's, in partnership with Platinum Reserve Distribution, will be available for purchase in the great State of Florida beginning October 1st, 2019!!! Please ask for us at your favorite Package Stores and Watering Holes. Hey, and let's go ahead a start petitioning the State to change their motto from "The Sunshine State" to "The Moonshine State." WHO'S YOUR GRANDADDY???
Tommy Townsend in Concert
Check out our very own Tommy Townsend in Concert in one of the upcoming locations:
-11/9- Emerald Coast Car Show- Panama City Beach, FL
-11/22- Waymore's Outlaws- Puckett Grocery- Leiper's Fork,TN
-12/28- Waymore's Outlaws- Rooster's- Mesa, AZ
-12/29- Waymore's Outlaws- Boots on the Beach- Newport Beach, CA
The Story of
Grandaddy Mimm's
Jack "Mimm" McClure (1914-1969) was a moonshiner and
philanthropist in the North Georgia Mountains. Our authentic
moonshine is crafted from his 1930 recipe, which is distilled
and bottled locally. Come in and try the best moonshine
you'll ever taste.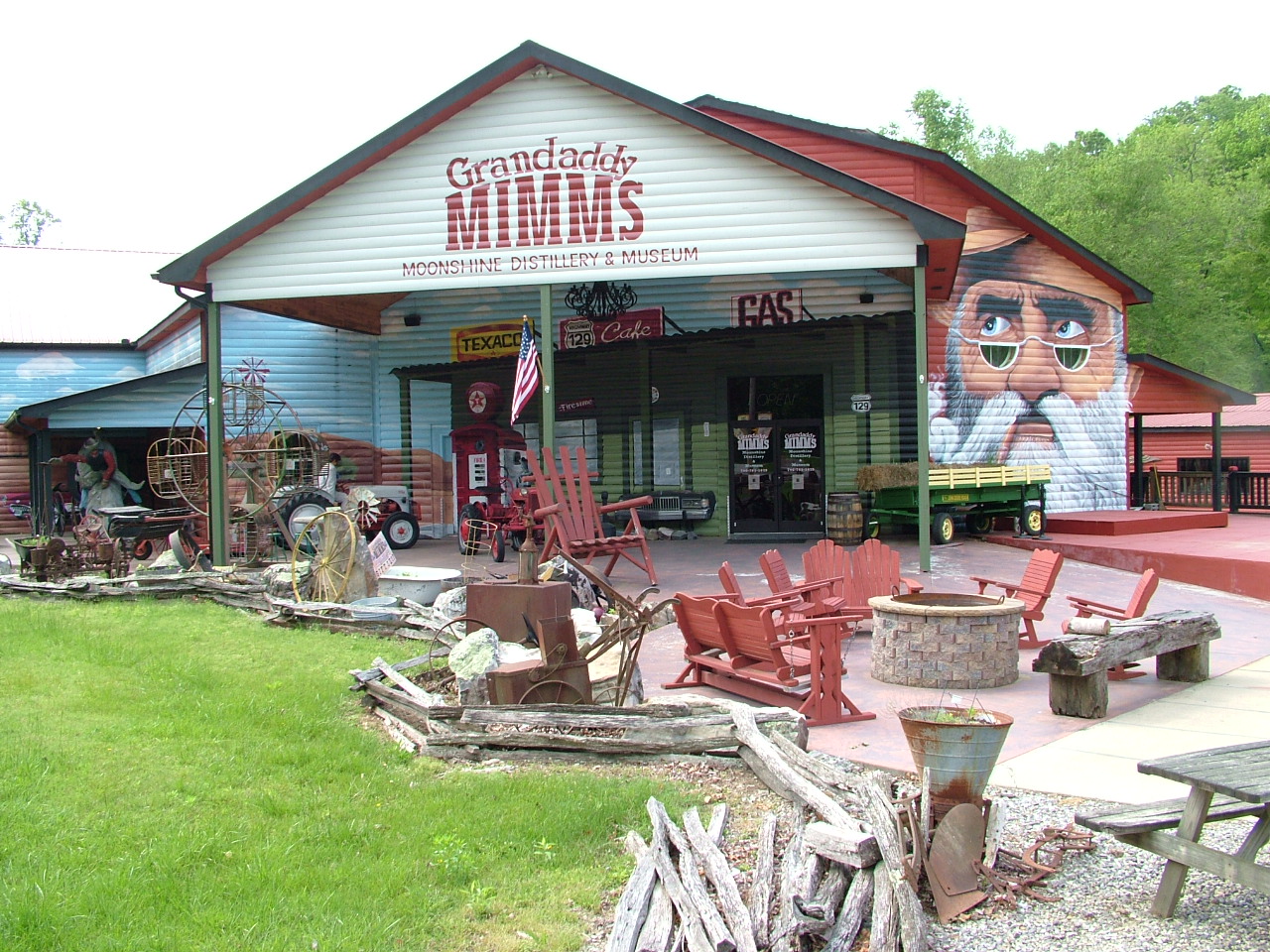 Events at the Distillery
From concerts to moonshine tastings, festivals and fundraisers, Grandaddy Mimm's is the place to get together for music, family fun, and community!
Meet Us at the Bar!
Guests are invited to spend about 20 minutes with a tour guide,
learning about the history of moonshine, the story behind our company,
and the intricate details of the distillation process.

For our guests who are pressed for time, we offer a flight of tasting
right at the bar. Pick up to five flavors to try straight up!
Authentic Moonshine
Not sure if moonshine is for you? Wondering what kind of cocktails you can create with a jar of shine? Let us help clear up some common misconceptions about hooch, firewater, and white lightening.
Can't Get Enough Moonshine?
Take home a jar from the distillery, or find out where you can purchase Grandaddy Mimm's near you!